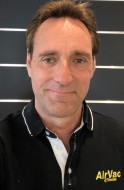 AirVac started up in 1993 by Håkan Bengtsson, and he is running the company.
Håkan has a background in import, sales and installation of Ventilation- and Central vacuum systems since beginning
of the 80´s. AirVac started as an installationcompany but soon we had ideas of how to make a better Central Vacuum and our first produced power unit was made in 1998. Since year 2000 our business totally turned in to production and distribution of Central Vacuums and installation components & cleaning accessories.
We are major distributor and supplier to several collegues of other brands in the Scandinavian market, for hoses, tools and pipes & fittings.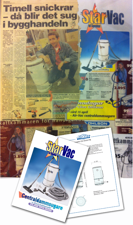 In 1998 we made our first power unit that changed the standards for Central vacuums in our market.
One of our first retailer was "Clas Ohlson AB", now with more than 200 stores all over Scandinavia.
During year 2000 we introduced our first "plug-n-play" three-phase unit that also settled a new standard for commercial systems!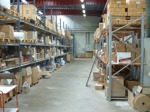 At our import warehouse in south of Sweden, most of all incoming containers gets unloaded.
Here we also keep stock of components such as Side channel blowers for our commercial range, in our sister company EKB. (www.ekb.se)